Roissy Carex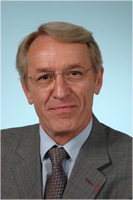 Yanick Paternotte
Honorary Chairman of Roissy Carex

The Carex project introduces a modal shift from air cargo transported by trucks and airplanes on routes of short and medium distances to high-speed trains. It will also transport road freight on trains.


By 2020, this rail service will connect the airports of Amsterdam Schipol, Liege, Lyon St Exupéry, Roissy CDG, the London Basin and Germany. The network will extend later to Spain and Italy.


Yanick Paternotte, founding Chairman of Roissy Carex since February 2006 qualifies the project as a truly innovative project of sustainable development at a European level.


The Roissy Carex plattform is designed as a "magnet" with a structuring land development effect with interest to all elected officials, business leaders and residents.


This new service is a real opportunity to develop a new mode of transportation with a positive impact on economy, employment and environment.
ñññ

"CAREX" is one of the 260 environmental projects recorded at the "Grenelle Environment Forum". Its purpose is to substitute dedicated trains running on the high speed rail networks for the airlines' "Air and Road" freight activities. It is also politically and financially supported by the public authorities in the different countries concerned.
Board of Directors and General Assembly of Roissy Carex
17-05-2018
There have been some changes in the members of the Board of Directors and the Executive Committee. Updated lists are available on the "Members & Partners" page.